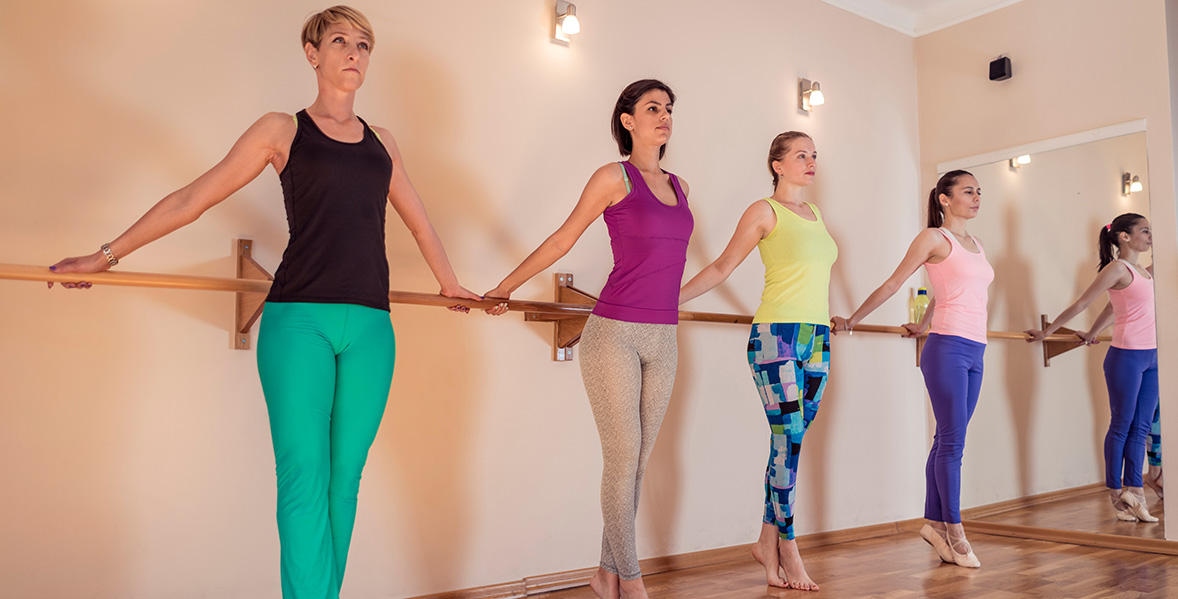 Barre Classes in the Green Room

Total Barre in the Green Room

This class brings the principles of Pilates into a Barre class. Enhancing what you thought you knew about achieving a Ballerina body. Strong and supple is the way forward!

Sculpt lean and toned muscles with this energising and dynamic group exercise class designed to challenge and change your body – no dance experience or tutus required!

Total Barre efficiently blend Pilates with dance, cardio and strength-training. Specifically challenging arms, legs and core to strengthen and lengthen the body.

Powered by energising, heart-pumping music that makes you want to move, this class uses choreographed movement patterns with the support of a Ballet barre to take you through a flow of high-powered sequences that will keep you energised and motivated.
Ballet Barre in the Green Room

Time to recall and improve upon your previous knowledge of Ballet even if you have not tried it since you were a child.

Never tried Ballet before? This is an ideal what to dip your toe into the world of pointed toes and turn out.

Strengthen and stretch as you perform movements from centuries of Ballet techniques, move to music that will lift your spirits.

This Adults Ballet Barre class is taught at beginner level with Pilates abdominal strength training and gentle stretches to finish. Exercise has never felt so good!
Barre Class Timetable in the Green Room, Danbury

In response to demand and the current lockdown due to Covid-19 I have taken my Barre (and Pilates) classes online and amended my barre timetable as follows:

Total Barre Cardio:

Currently Online via Zoom. As well as your virtual 'face to face' class: You will receive a video of me teaching your class to use as much as you wish for the 7 days after your class.

Sundays 10.00am – 11.00am

£10.00 for a 1 hour class. Limited to 6 attendees.

£32 for a 4 week course.

Full timetable and booking information:

Private Barre classes

If Barre group classes don't work for you, why not book a private session on your own or with a small group of friends with Emmeline in the Pilates and Barre studio at Green Room Health in Danbury, Essex?

See contact page for more information and how to book:

https://www.greenroomhealth.co.uk/contact/

Danbury is a beautiful village placed between Maldon and Chelmsford. Nearby are the scenic villages and towns of Bicknacre, Little Baddow, Baddow, Great Baddow, East Hanningfield, West Hanningfield, Woodham Walter, Woodham Mortimer, Woodham Ferrers, South Woodham Ferrers and Heybridge to name but a few.

Why not take a class and then go for a country walk to cool down afterwards…