What do you do in a Barre class?
Barre class is a dynamic ballet dance based workout that focuses on strength, flexibility, stamina and core stability, through a combination of Pilates, dance, cardio, and strength training.
The following details what you will learn in a Barre class:
1. A simple warm up moving the spine in all planes of movement whilst focussing on the breath and it's effect on the movement.
2. Lower body warm up including squats, toe rises and pliés AKA knee bends with the legs in a turned out position.
3. Upper body strength and endurance with hand weights or resistance bands.
4. Lower body strength and stability whilst increasing mobility of the hips. Standing side and back leg lifts for example.
5. Cardio Legs increasing the range of motion, repetitions and speed movements include leg kicks and curtseys.
6. Mat based floor work including Pilates abdominal strengthening, spine and shoulder girdle stabilisation and strength training. Finishing with gentle stretching and relaxation.
All choreographed to uplifting and energising music that makes you want to move.
Here is a 1 minute video that will give you a visual idea of what we get up to in my Total Barre class:
What equipment do I need to take part?
Using small equipment enhances your body awareness so you will want to get ready the following:
1. Chair or similar to function as a 'barre'.
2. Resistance Band – or stretchy tights.
3. Hand Weights – or water bottles or tins.
4. Mini Pilates Ball – or a toy football or sofa cushion.
The above small equipment items are low cost as can be used for various exercise classes including Pilates. A worthwhile investment!
See my Youtube video here for what you can use for Barre class and why:
Sounds amazing! Where can I join a class?
You can join my Total Barre Anytime online course by visiting my booking site here: www.bookwhen.com/greenroomhealth
What's so good about Total Barre Anytime online?
Every week of the 4 week course you will be sent a new video link.
You can use the class video whenever is convenient for you. As often as you wish throughout the week.
Whether you are an early riser or a night owl. You can get your Total Barre fix whenever you feel you have the time and energy for it, safe in the knowledge that you have resources in a private Facebook group to refer to for help with technique and live Q&A sessions me on hand to answer specific questions.
This new format came about in response to requests by people who could not attend online class at a specific time each week whether due to busy family life or working shifts.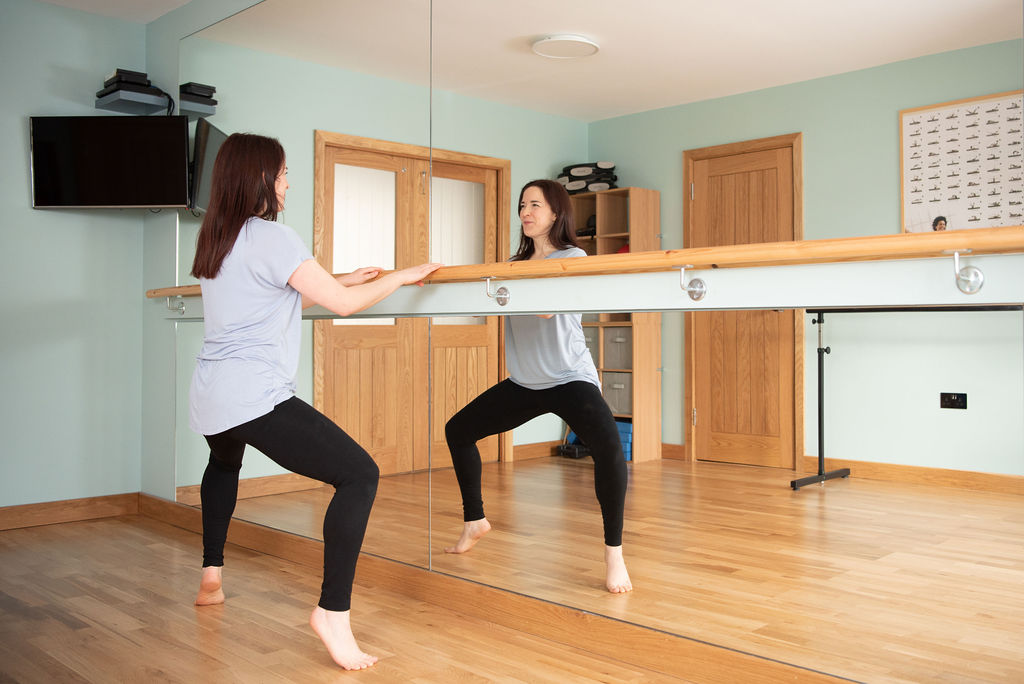 What if I'm still not sure I will get the most out of it?
Just join us for a week for only £7.50! Get your workout link and engage with the Facebook group chat about how and when you plan on fitting in your workouts. Allow yourself to be inspired by others. We all live busy lives but benefit greatly by doing exercise – the extra oxygen intake and happy hormones from exercising are a real boost!
Remember that if you can't fit in a whole hour then you can just do the warm up, squats and pliés one day then do the warm up, arms and legs another day.
The finishing mat work section works beautifully as a separate 10-15 minute strength and stretch section in it's own right.
When is the next Total Barre Anytime online course?
The next course starts on Friday 6th November – only £24.00 for 4 weeks.
A new workout each week and support included via the private Facebook group.
If you want to try before committing to the full 4 week course then why not sign up for a week for just £7.50; get your workout link and gain access to the private Facebook group.
We already have a lovely group in there with free content for you to improve your technique and accountability to keep you motivated!
New course dates will be added to the timetable every month so check here for the full timetable: www.bookwhen.com/greenroomhealth
Any other questions?
Pop on over to my Contact Me page and let's talk via email or on the phone.
Want to keep in touch via Social Media?
I share mini workouts and wellbeing related articles on my Facebook page: www.facebook.com/greenroomhealthdanbury
You can find a wealth of videos over on my Instagram page via my IGTV: www.instagram.com/greenroomhealthdanbury